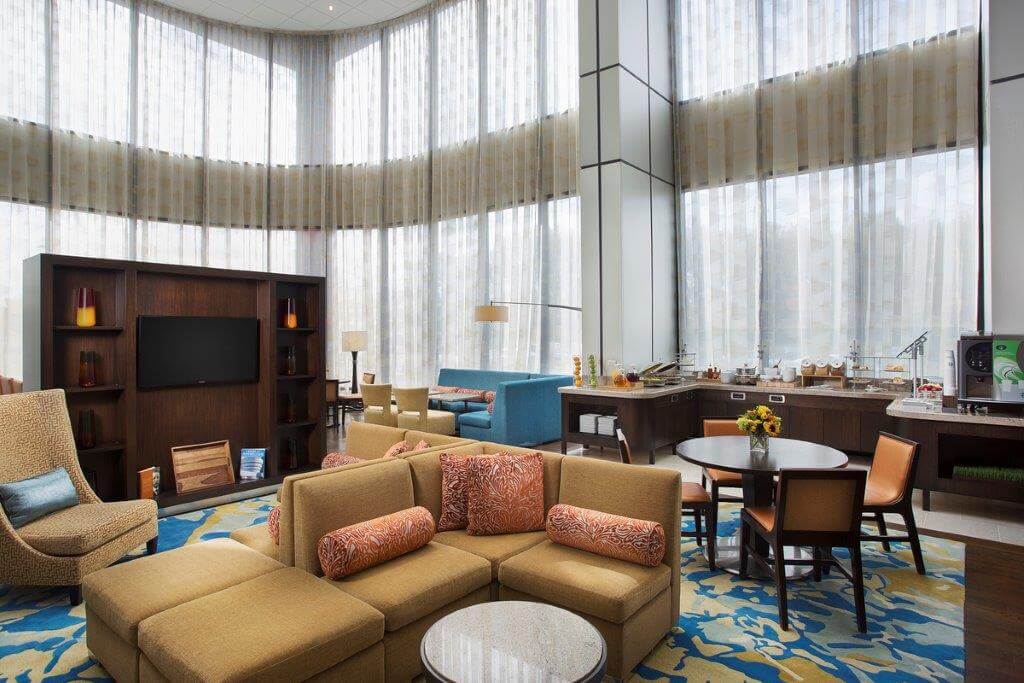 The M Club Lounge is now open at The Marriott at Glenpointe in Teaneck, providing an exclusive VIP-style space and premier services for the hotel's elite guests. The Marriott at Glenpointe currently is the only Marriott property in New Jersey to offer the M Club Lounge experience. The 350-room hotel and conference center is part of the landmark Glenpointe complex. One of the finest mixed-use communities in New Jersey, Glenpointe was developed and is owned by Alfred Sanzari Enterprises of Hackensack, N.J.
The full-service Marriott at Glenpointe is managed by Merrillville, Ind.-based White Lodging, one of the fastest-growing, fully integrated independent hotel ownership, development and management companies in the country.
Located in the Marriott at Glenpointe's lobby, the M Club Lounge is described by Marriott as a place to  "work, recharge, connect and relax" for Marriott Rewards Gold and Platinum Elite Rewards members, as well as guests who choose to add M Club Lounge access to their reservation.
"We are thrilled to provide this enhanced experience for our most valued guests who are seeking a higher-level of service, while creating an option for guests who elect to treat themselves to this exclusive environment," said Keith Shopnick, the hotel's general manager. "The M Club Lounge offers an expanded flexible environment, fresh food and beverages, and our signature hosting experience. This exciting new concept will enable guests to unwind, re-focus, re-charge, work privately, and transition between work and play as the moment arises."
Open 24/7 with key access, the sleek and modern M Club Lounge has connectivity and technology to meet business professionals' every need. This includes complimentary high-speed Internet access and wireless printing capabilities; four televisions; a boarding pass printing station; and services such as computers, phone, fax, scanner and copier. Ample comfortable seating provides guests with convenient access to USB ports and Kube Systems' portable charging stations.
Additional complimentary services and amenities include:
Daily breakfast consisting of eggs, bacon/sausage, parfaits, fresh fruit, hot/cold cereals, juices, and brewed coffee and tea (regular and decaf)
A variety of grab and go items such as yogurt, fresh fruit, sodas, water, snack mixes and candy
A self-serve Starbucks' single-brew coffee machine with lattes, espresso and cappuccino
Evening snacks including a selection of hot hors d'oeuvres; market-style cheeses; homemade hummus in a variety of flavors; assorted fresh breads, toasted pitas and crackers; and the hotel's signature "M"ac and Cheese (varies nightly based on chef's choice of toppings)
A dedicated host who is available weekdays from 6:30 a.m. to noon and 4:30 p.m. to 11 p.m., and on weekends from 7 a.m. to 1 p.m. A private M Club Lounge cocktail server is available each weeknight
A range of beers, wines and cocktails are available for a nominal fee. Guests who would like to eat dinner in the M Club Lounge have the option of purchasing a meal from Pancetta Regional Kitchen & Wine Bar's menu.
A Premier Hotel Experience
Located at 100 Frank W. Burr Blvd., the Marriott at Glenpointe is just three miles from the George Washington Bridge and 15 minutes from Manhattan. The full-service hotel is ideal for getaways, business meetings and social functions. The Marriott at Glenpointe has an on-site sales and events team to plan and execute flawless meetings and events. The hotel recently was ranked among the top 2 percent out of 358 Marriott hotels nationwide in the brand's Event Satisfaction Survey.
A multimillion-dollar renovation recently transformed the Marriott at Glenpointe's lobby, ballrooms, restaurants and 26,500 square feet of meeting space. Key to the lobby renovation was the adaptation of Marriott's "Great Room" concept, which incorporates comfortable seating and plenty of room to work, socialize or relax. A planned multimillion-dollar refurbishment soon will update the hotel's guest rooms and suites, guest bathrooms and guestroom corridors.
Founded in 1945 by Alfred N. Sanzari, Alfred Sanzari Enterprises is a second-generation family owned and operated business, and one of New Jersey's foremost real estate developers, owners and managers. The firm is known for the quality design and construction of its buildings, superior hands-on property management and the integrity of its tenant relationships. Many of Alfred Sanzari Enterprises' strategically located office, industrial, residential, retail and hospitality properties are iconic landmarks in their respective markets with a broad range of world-class corporate tenants. The company is headquartered in Hackensack.
About White Lodging Services
Established in 1985 and headquartered in Merrillville, Ind., White Lodging is a fully integrated developer, owner and manager of premium brand hotels – a recognized leader that consistently delivers superior, leading-brand hotel experiences and premium returns on investment among mid- to-large scale hotels across the country. With more than 30 years of expertise, White Lodging continues to break ground as one of the fastest-growing independent hospitality companies in the country. It's managed portfolio of more than 161 hotels in 20 states and encompasses representation of the leading brands. For more information about White Lodging, visit www.whitelodging.com or call (219) 472-2861.