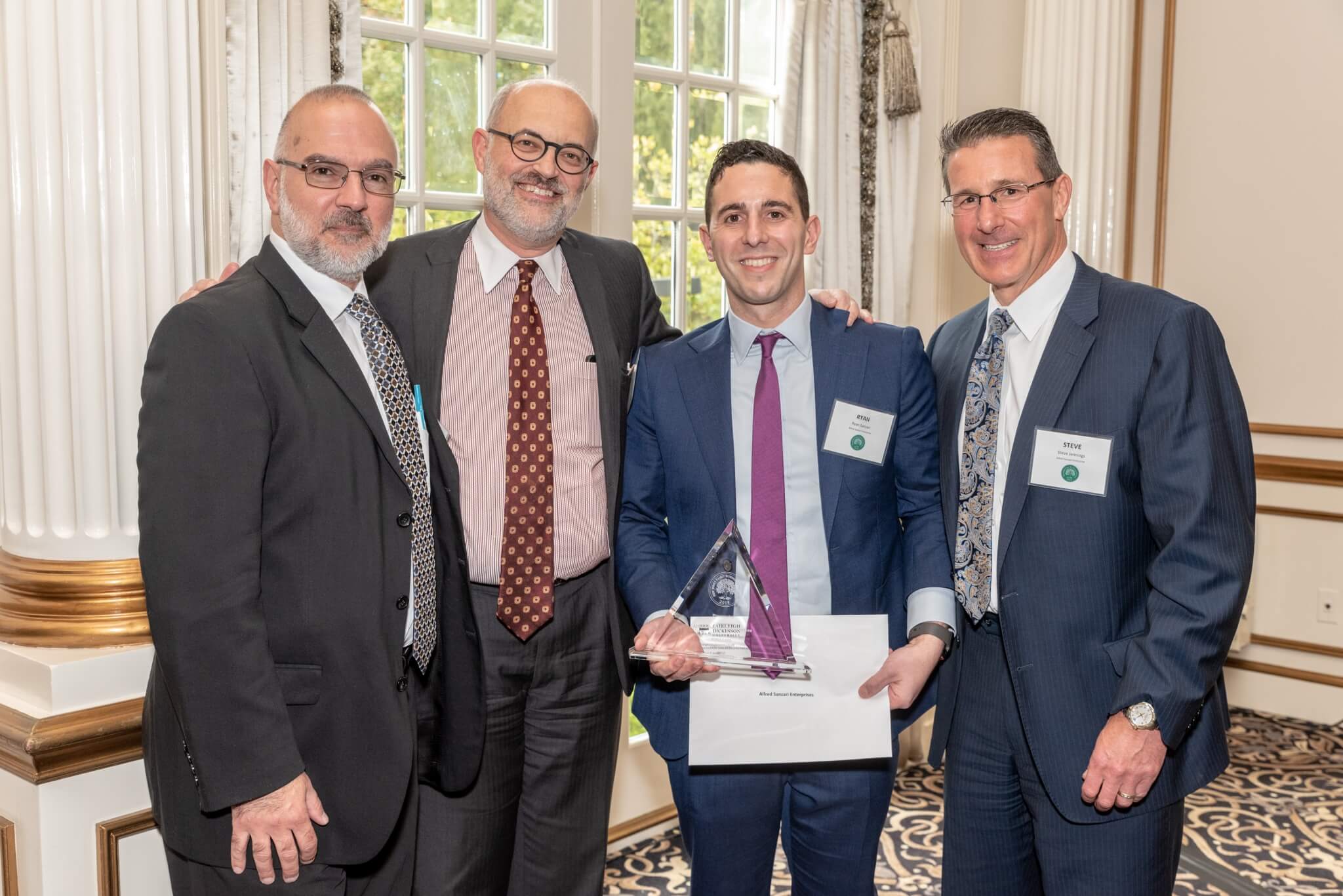 Alfred Sanzari Enterprises was named a finalist at the 26th Annual New Jersey Family Business of the Year Awards on October 24 at Crystal Plaza in Livingston, N.J. Hosted by the Rothman Institute of Innovation and Entrepreneurship of Fairleigh Dickinson University, the Family Business of the Year Awards recognize New Jersey family businesses that have showcased superior dedication to their industry, commitment to family values, vision, and contribution to their communities. Alfred Sanzari Enterprises was one of 12 family-owned businesses honored at the luncheon and one of only two finalists in their category.
With over 73 years of multigenerational development and management experience, Alfred Sanzari Enterprises is one of New Jersey's premier office, residential, industrial and hospitality developers and managers. Inspired by the strong ideals espoused by the firm's namesake, Alfred Sanzari, the company has adhered to the highest standards of integrity in every aspect of its work, continually delivering quality projects that reflect the needs of local communities since 1945.
Striving to uphold the family values the company was founded upon in 1945, Alfred's sons, David Sanzari, President and CEO, and Ben Sanzari, Vice President, joined the firm as construction laborers in the 1970s, learning invaluable lessons about integrity and responsible business practices as they rose through the ranks of the company. Forty years later, David and Ben have successfully expanded the company's scope of capabilities and market share while never losing sight of Alfred's vision. Representing the third generation of family leadership, Chief Operating Officer, Ryan Sanzari joined the firm in 2011 as an assistant project manager, began managing the firm's construction projects in 2012 and was named Director of Operations in 2014, before assuming his current role in 2016.
"It's truly an honor to be recognized among some of the finest family-owned businesses in New Jersey," said Ryan Sanzari, Chief Operating Officer, Alfred Sanzari Enterprises. "We wouldn't be standing here today if it weren't for the principles of hard work and integrity Alfred Sanzari founded this company on several decades ago. These ideals, which have remained deeply rooted in our operations throughout changing economic climates, will continue to guide our organization in today's and tomorrow's rapidly changing real estate sector."
As a leader within the real estate industry, Alfred Sanzari Enterprises has garnered a reputation for operational excellence achieved through a combination of long-held foundational ideals coupled with the novel application of the latest real estate technologies. Today, the firm manages over 6 million square feet of real estate with over 200 commercial tenants and 540 residential tenants. The strength of their commercial and residential portfolios is backed by a longstanding reputation for superior tenant service and long-term tenant retention. In addition to prioritizing tenant satisfaction, Alfred Sanzari Enterprises' commitment to responsible, modern development helps enhance the communities in which they work and create projects that can be points of pride for the firm and community for decades to come.
New Jersey Family Business of the Year honorees will be profiled in New Jersey Business Magazine, a publication of the New Jersey Business and Industry Association. For a full list of honorees, visit: https://njbmagazine.com/njb-news-now/nj-family-businesses-of-the-year/.
Alfred Sanzari Enterprises is a preeminent family-owned and operated commercial and residential real estate firm with over 73 years of multi-generational development and management experience. Rooted in integrity and driven by innovation, Alfred Sanzari Enterprises is committed to responsible, modern development that enhances the communities in which they work. Alfred Sanzari Enterprises' ownership structure and investment strategy allows unique flexibility in sourcing new projects while strengthening their ownership legacy of existing assets.