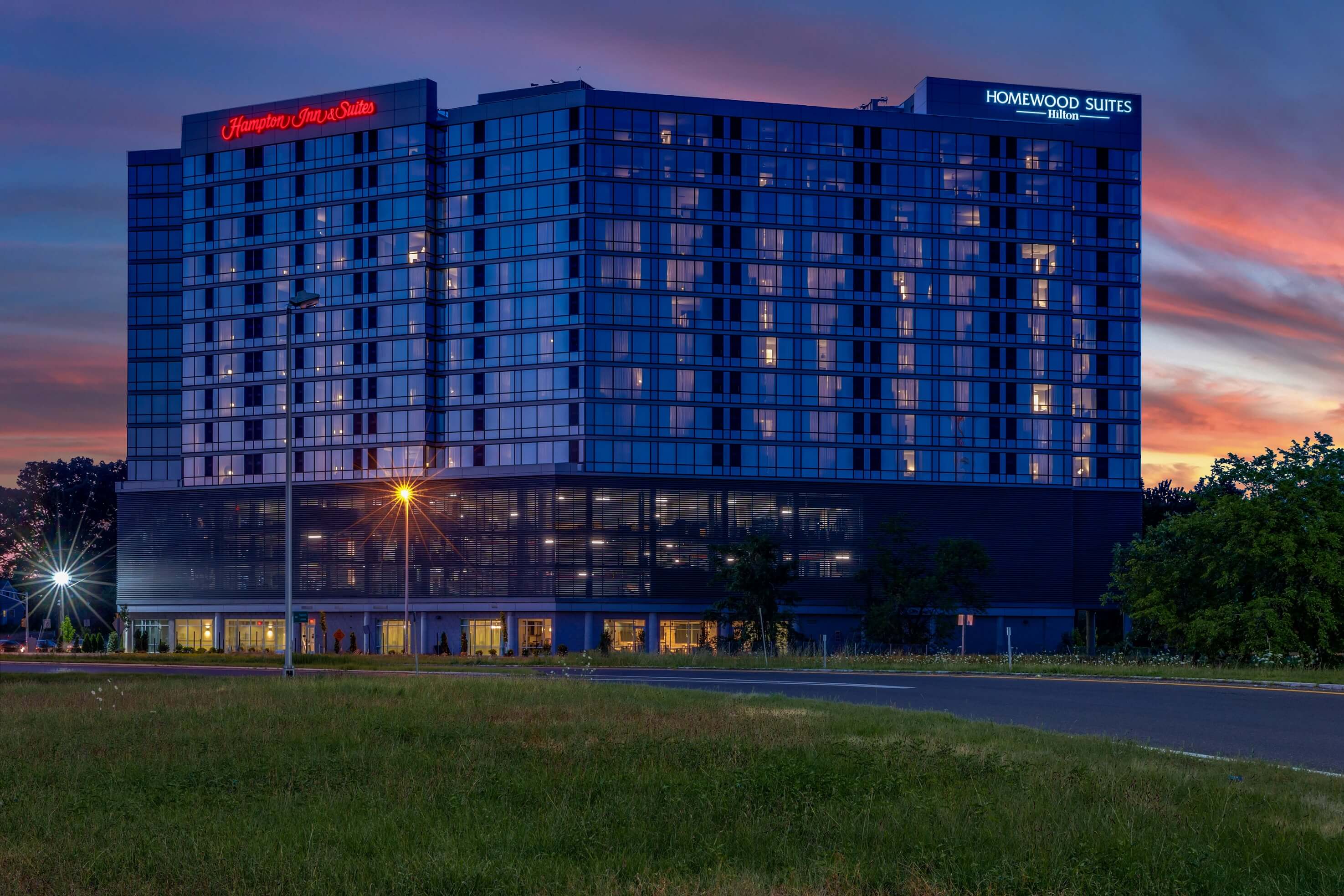 Alfred Sanzari Enterprises announces it has been recognized with a 2018 Hilton Legacy Award for their development of the dual-branded Hampton Inn & Suites and Homewood Suites at Teaneck.
The Hilton Legacy Awards recognize the passion, creativity and innovative spirit of Hilton's partners who are committed to quality projects that meet or exceed brand standards and have a positive impact on communities around the world. The leadership of Hilton's development and brand teams select the winners based on strict criteria including, but not limited to, hotel quality and commitment to guest experience.
Driven by the vision of Alfred Sanzari Enterprises, the development of the Hampton Inn & Suites and Homewood Suites at Teaneck has set a new standard for sophisticated comfort in the New York City market. Standing at 15 stories with 350 upscale guest rooms in a variety of configurations, the dual-branded Hampton Inn & Suites and Homewood Suites at Teaneck has reimagined focused-service hotels through a sleek and modern high-rise construction. The glass facade of the building stands out to travelers on the adjacent Interstate 80 and The New Jersey Turnpike while providing guests with sweeping views of the Meadowlands and New York City skyline. Utilizing the most modern construction techniques and processes, Alfred Sanzari Enterprises was able to maximize the potential of the building's one-acre lot while ensuring interior design flexibility.  Inside, Alfred Sanzari Enterprises pursued a design that achieved a synthesis of modern and welcoming design touches to provide guests with a unique hospitality experience.
"From the moment we drew up the first set of plans for this hotel, we set out to create a hospitality experience unmatched in the market. Now, as we look at the completed building, we see the successful realization of our ambitious vision through the delivery of one of the most unique hotel offerings in the region," said David Sanzari, President and CEO of Alfred Sanzari Enterprises. "We are honored to be recognized by Hilton with this prestigious award and would like to thank our team and project partners for their hard work in bringing our vision to life."
Through pursuing a dual-branded concept, Alfred Sanzari Enterprises was able to also create enhanced and larger communal areas compared to a standard single-brand property, benefiting both business and leisure travelers. The hotels feature Crossroads – a bar area for guests to meet, eat or just relax – as well as covered guest parking, a shared lobby area, 24-hour fitness center and indoor pool for guests to unwind. The hotel also offers 1,230 square feet of shared meeting space that can accommodate up to 100 people, making it perfect for small to mid-sized events with the right mix of location, amenities, and access to premier entertainment and dining options.
The dual-branded hotel stands at the gateway to Glenpointe, Alfred Sanzari Enterprises' 50-acre office campus with over 670,000 square feet of Class-A office space, an additional 350 hotel rooms found in the connected Glenpointe Marriott, the 26,000-square-foot Glenpointe Spa and Fitness Center, The Pointe, a flexible, solutions-focused amenity and tenant engagement service operating out of a centrally-located space in Glenpointe's soaring atrium, abundant covered parking, 24/7 security, a full-service Starbucks and an array of convenience services. In addition to the office space, the campus offers an assortment of culinary options and experiences including a cafeteria, a restaurant, a wine bar, a lounge, and Fooda, a pop-up food service that brings top local restaurants directly to Glenpointe. The addition of the Hampton Inn & Suites and Homewood Suites' 350 guest rooms enhances Glenpointe's wide range of amenity offerings and further cements Glenpointe as one of the premier corporate destinations in New Jersey.
To see the full list of Hilton's 2018 Legacy Award winners click here.