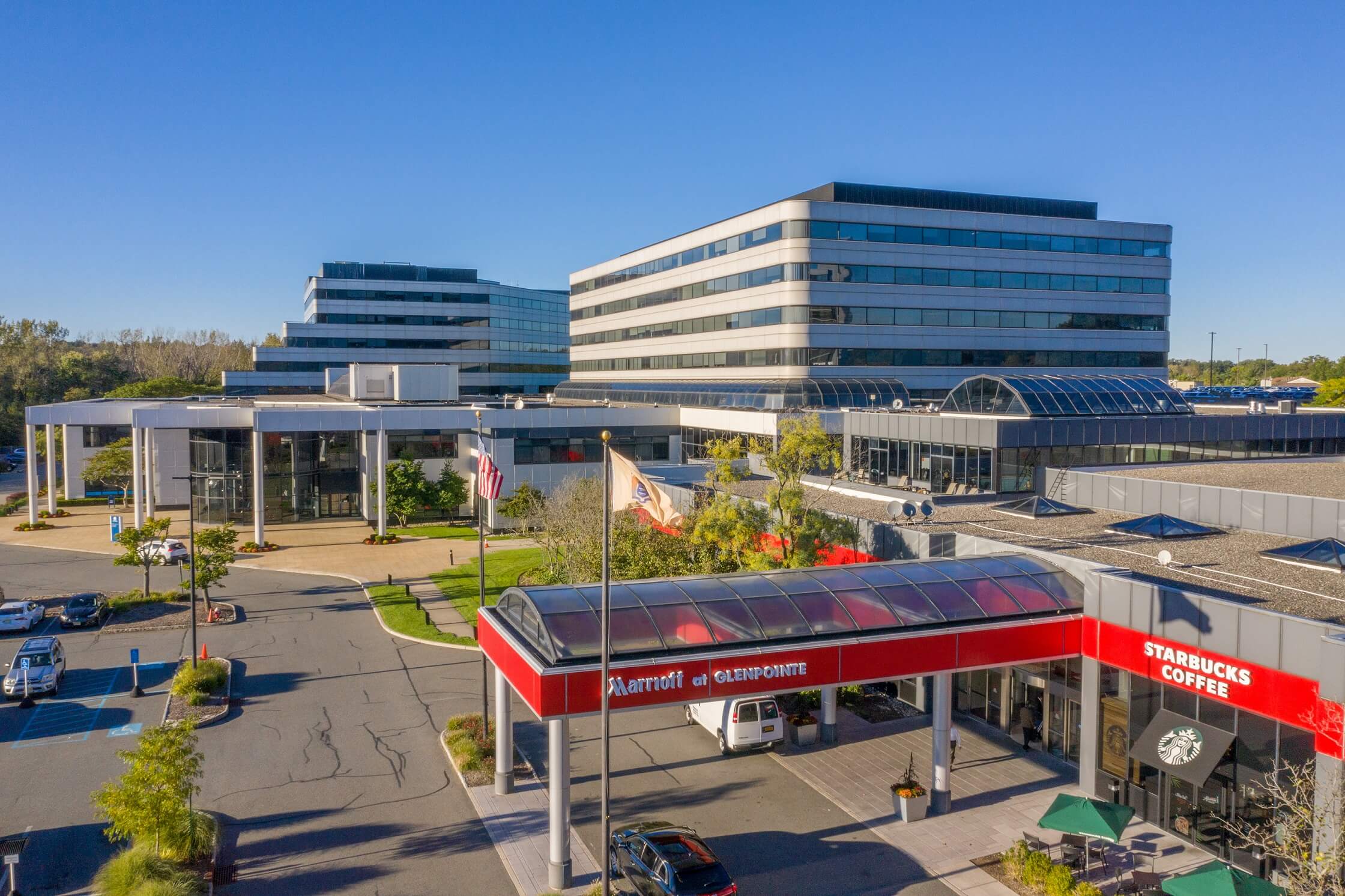 Led by industry veteran Jeff Schotz, NKF's team will guide leasing strategy at iconic office campus
Teaneck, N.J. (September 16, 2019) – Alfred Sanzari Enterprises announces it has selected Newmark Knight Frank as the leasing brokerage firm for Glenpointe, northern New Jersey's premier corporate destination. The NKF team, comprised of Jeff Schotz – Executive Managing Director, David Simson – Vice Chairman, Peter Rossi – Senior Managing Director, and Dan Reider – Associate Director, will work closely with Alfred Sanzari Enterprises' senior management team to market Glenpointe's available Class-A office space.
"Having begun my career working at Alfred Sanzari Enterprises and being involved in the original development of Glenpointe, I could not be more excited to represent their signature property," said Schotz. "Over the past 30 years, behind the visionary ownership of the Sanzari team, Glenpointe has continually evolved to ensure it remains the premier corporate destination in the region. With their recent interior and exterior multi-million-dollar capital improvement plan, Sanzari has once again successfully reinvented their signature property to create a one-of-a-kind experience for tenants and we look forward to working on their behalf to market this tremendous campus."
Sprawled across a 50-acre campus, Glenpointe is in a class of its own among the tri-state area's corporate destinations. In addition to over 670,000 square feet of Class-A office space, Glenpointe boasts 700 guest rooms across three on-site hotels along with over 40,000 square feet of conference space, the 26,000-square-foot Glenpointe Spa and Fitness Center, abundant covered parking, 24/7 security, an array of convenience services, and onsite access to public mass transit to New York City and Bergen County. Ideally located at the intersection of Interstate 80 and the New Jersey Turnpike, Glenpointe provides tenants and visitors with easy access to all local airports and major thoroughfares including the Garden State Parkway, Palisades Interstate Parkway, the George Washington Bridge, and Routes 4 and 46.
"Our goal at Glenpointe is to provide tenants with a unique workplace experience that they can't get anywhere else. With each new amenity or improvement project, we are providing our tenants with experiences that are unmatched in the local market," said Ryan Sanzari, Chief Operating Officer at Alfred Sanzari Enterprises. "We knew that Jeff and his team would be ideal partners in the continued evolution of the campus and we look forward to working with Newmark Knight Frank to ensure that Glenpointe continues to be Northern New Jersey's premier corporate destination."