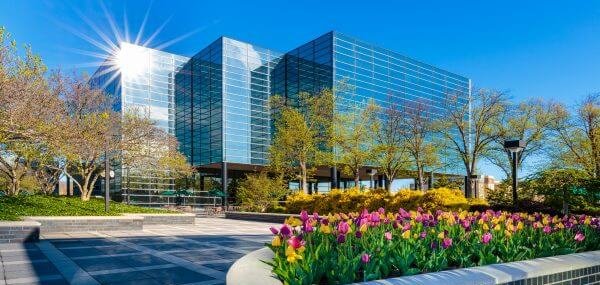 Expansion Highlights Continued Growth of Legal Community at Court Plaza Office Complex
Alfred Sanzari Enterprises has inked a lease renewal and expansion with Rivkin Radler, LLP, for 12,411 square feet of office space at Court Plaza North located at 25 Main Street in Hackensack, N.J.
With five offices across the New York – New Jersey metro area, Rivkin Radler's legal expertise has been relied upon by clients for nearly 70 years. Their new lease of 12,411 square feet marks their second expansion at the complex since they began leasing at Court Plaza in 2006. Initially occupying 6,337 square feet at Court Plaza South, the firm later expanded their lease by 1,800 square feet in 2012 and their continued growth has necessitated a second expansion and move to a 12,411-square-foot office building at Court Plaza North.
The impetus for the move was the growth in the firm's New Jersey office, both current and anticipated. Prominent New Jersey real estate attorney Khoren Bandazian joined the office as partner in May. The firm expects the New Jersey office to continue to grow its headcount and client base significantly in the coming years.
"Located just across the street from the Bergen County Courthouse, Court Plaza provides law firms and professional services tenants with a modern and flexible office with its unparalleled access to the Bergen County Administrative Complex," said Stephen Jennings, Vice President of Leasing and Marketing for Alfred Sanzari Enterprises. "With over 30 law firms calling Court Plaza home, we pride ourselves on being able to meet their ongoing space needs to accommodate their continued growth within one of Bergen County's premier office buildings."
Court Plaza's ideal location within a short walk to the Bergen County Administrative Complex and other governmental offices makes it a popular office for legal tenants such as Rivkin Radler. Additionally, easy access to I-80, Routes 17, 4 and 46, the New Jersey Turnpike and the Garden State Parkway as well as ample, covered parking ensures convenience for their clients. The ease of access, coupled with on-site property management and ownership, a full-service cafeteria, a fully-equipped fitness facility, an on-site bank, and on-site shoe shine/repair, dry cleaning, and car detailing services ensure that both the tenant and client experience at Court Plaza is uniquely suited to law firms and other professional services firms.
"The move was necessary as we continue to expand our litigation and transactional practices," said Managing Partner Evan H. Krinick. "It was fortuitous that the larger space, in the same office complex, became available when we needed it." Added Gregory D. Miller, a Partner in Rivkin Radler's New Jersey office, "Our Hackensack location has proven to be convenient to our clients in New Jersey as well as those across the New York metropolitan area."