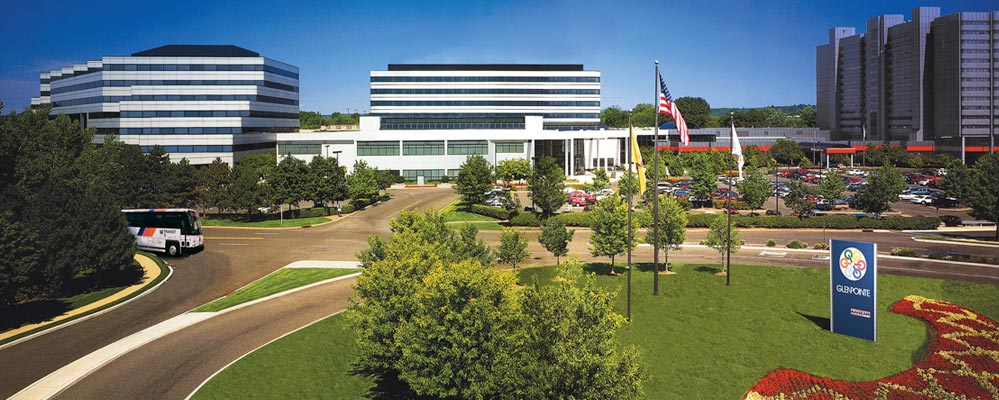 TEANECK, N.J., Nov. 23, 2016 – Alfred Sanzari Enterprises has announced the completion of four lease transactions totaling approximately 18,350 square feet at Glenpointe in Teaneck. The deals, comprised of both new leases and renewals, reaffirm the mixed-use property's appeal as Northern New Jersey's premier business addresses.
In the largest transaction, Hanwha Techwin America signed a lease for 13,000 square feet at Glenpointe Centre West, located at 500 Frank W. Burr Blvd. The lease signing marks the security solutions firm's expansion and relocation from nearby Ridgefield Park. Alfred Sanzari Enterprises was represented in the transaction by the Cushman & Wakefield team of Richard Baumstein, Marc Graham and Christian Politan. The tenant was represented by Rob Norton of CBRE.
Additionally, PhotoScribe Technologies – a global leader in designing, manufacturing and optimization of laser systems – leased 1,900 square feet at Glenpointe Centre East, located at 300 Frank W. Burr Blvd., relocating from New York City. Also at Glenpointe Centre East, PriceManager and Advance Mortgage Corp. renewed leases for 1,950 square feet and 1,500 square feet, respectively.
"Glenpointe, as a business destination, offers tenants a world-class corporate environment with the ability to grow over time," said Jerry L. Barta, Alfred Sanzari Enterprises' vice-president/director of leasing and marketing. "We look forward to being part of these successful firms' growth for many years to come."
Situated within minutes of the George Washington Bridge and direct access to New York City, major airports and top leisure attractions, Glenpointe is a regional hub and home to a broad range of local, national and international companies. The landmark 50-acre complex at the intersection of I-80 and I-95 encompasses Glenpointe Centre West, Glenpointe Centre East and The Atrium at Glenpointe office buildings. Also on-site are the 350-room full-service Marriott at Glenpointe hotel and the 26,000-square-foot Glenpointe Spa & Fitness Center. Campus amenities include a full-service bank, cafeteria, restaurant, wine bar, lounge, covered parking, on-site management, 24/7 security and a variety of services.
Further enhancing Glenpointe, construction is underway on a new dual-branded hotel featuring the Hampton Inn & Suites by Hilton and Homewood Suites by Hilton brands.